Diggi Dot
Last year, I went off to Jaipur at the invitation of Ritchie Ace Camps, to teach a three day course in pattern generation and design as part of a seven day experiential tour focussed on traditional Indian block printing and dying techniques. My role was to teach how to design and create pattern using lino printing blocks.
We stayed in a charming old hotel in Jaipur called Hotel Diggi Palace, where I taught my course at in the leafy poolside courtyard.
While prepping for the trip, I did a lot of lino block printing in my studio, and found this method of generating pattern very exciting, because of the way the simplest shapes can generate endless combinations and variations, with just a shift of direction or colour.
Upon my return, I thought I might make an India-inspired collection, which would be vibrant, decorative and generally quite excessive, but instead, I found myself drawn to soft colours and delicate lines. I wrote this in my journal on my last day in Jaipur:
       "I've come away with a sense of sweetness and calm beneat the clamour and chaos of the traffic. Delicate fabrics, the finest lines, the softest tones: My experience of India has been all about exquisite skill, craftmanship and attention to the finest detail."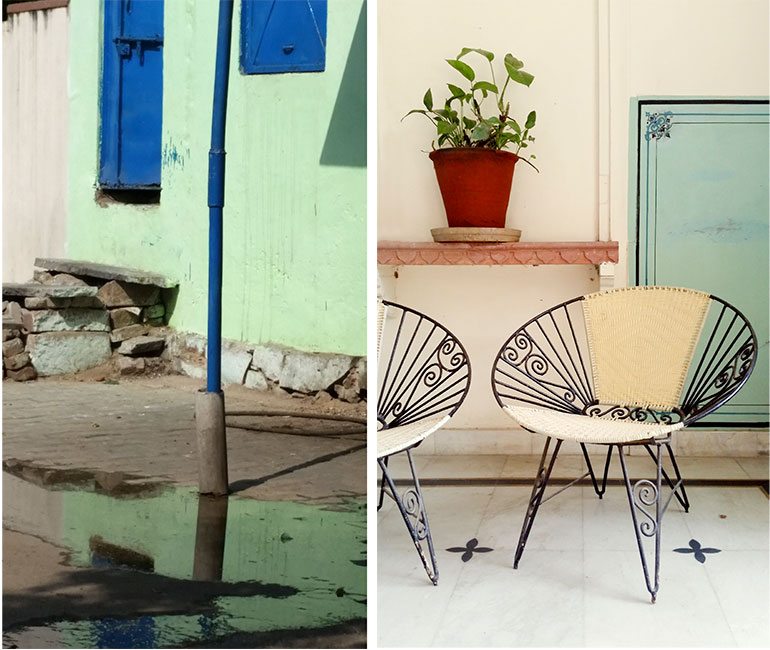 The result is the Diggi Dot collection, where the simplest block printed motifs  – a line, a half circle and a dot – combine with the fresh, light colours of Jaipur and Hotel Diggi Palace.
Including Diggi Dot into the existing range of Skinny laMinx prints and palette has revealed lots of new and unexpected colour combinations, which is why making our catalogues is always SUCH and exciting part of the new range.
Take a look at the 2015/16 COLOUR BOOK to see what I mean.
Read all about my trip to Jaipur here, and check out my next teaching stint with Ritchie Ace Camps here.